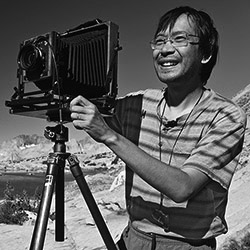 Statement for HCMC
Statement for Park Nature Views
Born to Vietnamese parents in Paris, France, QT Luong was trained as a scientist (PhD U. Paris), but it is his experience as an alpinist which resonated the most. When he came for a short stay to the US in order to conduct research in the fields of Artificial Intelligence and Image Processing, he chose UC Berkeley because of its close proximity to Yosemite -- a destination he had heard about from other climbers.
There, he fell in love with the National Parks, where his solo wilderness travels included an ascent of Denali. In order to continue visiting them, he settled in the San Francisco Bay Area and subsequently left his career as a scientist to work as a photographer. By 2002, he became the first to photograph each of the 58 US National Parks with a 5x7 camera; QT founded the leading online large format photography community. In 2009, Ken Burns and Dayton Duncan featured him as one of the few living characters in the film, "The National Parks: America's Best Idea".
QT's photographs have been the subject of four books, including "Treasured Lands: A Photographic Odyssey through America's National Parks", winner of six national book awards. They have also appeared in several publications including National Geographic, Time, Life, Outside, Scientific American, GEO, and hundreds of others in dozens of countries around the world. Profiles about his work have appeared in magazines (National Geographic Explorer, Outdoor Photographer...) and newspapers (The New York Times, San Jose Mercury News...).
QT lives with his family in San Jose, California.


SOLO EXHIBITIONS
Li Yuan Photography Art Museum, Ningbo, China, 2019
Mistlin Gallery, Modesto CA, 2018
California State Building, San Francisco, 2017
Art Ark Gallery, San Jose CA, 2017
Museum of Science, Boston MA, 2016
PhotoCentral Gallery, Hayward CA, 2016
Fullerton Museum, Fullerton CA, 2015
National Heritage Museum, Lexington MA, 2010-2012
Balboa Theater, San Francisco CA, 2010
Balboa Theater, San Francisco CA, 2009

GROUP EXHIBITIONS
Pacific Art League, Palo Alto, CA, 2019
Northwestern University, Boston, MA, 2010
Ah Ha School for the Arts, Telluride, CO, 2009
Four Seasons Hotel Gallery, Westlake Village, CA, 2009




Phone: +1 408-706-0894